Re: File:HenryTO9+4 - On riverside in city.jpeg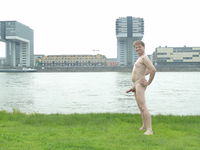 Hi, this is a totally cool photo. I'd so very much want to make the exact same one myself, looks exciting!
How did you manage to make it? It does look like a pretty central area and i hope it was safe for you to do this.
Yes, this riverside is just acroos the central city of Cologne in Germany, I like it a lot. You are not disturbed there, some people also like to watch. It is great, that you like it. What do you wanna see else ? Maybe, I have a vid or photo for it ...
Cool.
It's not really about me wanting to see something specific. I just wrote, because this photo is actually quite artistic. Grass, water, city, sky... and its porn. Wow! q;-)=
Thanks a lot, I just posted some other ones from that location. Feel free to post them on other sites wherever you like ...