File:Toshi Ota - gravitational singularity.jpeg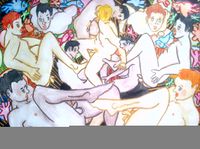 Hi, i'm just wondering if you still have this file laying about. I've mirrored it when you were still uploading to Wikimedia Commons and they were being deleted there. But this one got damaged somehow. As you can see the bottom didn't get through somehow, and i don't have a better version. If you have it, please feel free to upload over it. Just go to that page and you'll have a link at the bottom saying "upload a new version", if not, then it's better than nothing.
But please don't upload a different file over it.