User talk:Toshiconan
From Freedom Porn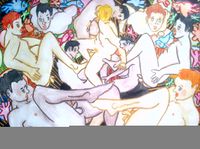 Hi, i'm just wondering if you still have this file laying about. I've mirrored it when you were still uploading to Wikimedia Commons and they were being deleted there. But this one got damaged somehow. As you can see the bottom didn't get through somehow, and i don't have a better version. If you have it, please feel free to upload over it. Just go to that page and you'll have a link at the bottom saying "upload a new version", if not, then it's better than nothing.
But please don't upload a different file over it.
[1] You've changed it to toshiconan. The name is for the name of the work, the submitter is for your name. Did you make a mistake when uploading or now?.
I made a mistake. The name is Anharmonic Oscillator.
Hello, and welcome!
Is this artwork that i've copied from Wikimedia Commons yours? Category:Toshiconan?
Awesome! I am really glad that you've decided to join! ☺
If you have any questions or suggestions, please do not hesitate to ask. I was actually quite glad to find your work before, i just barely managed to download it all before it was deleted on Commons. And now you are here… really awesome!!!